Bridgestone Mud Terrain and All Terrain Tyres
Browse & shop online the best range of Bridgestone mud terrain and all terrain tyres
For grip, toughness, durability and performance, Bridgestone has a range of off road, mud terrain & all terrain tyres for every situation.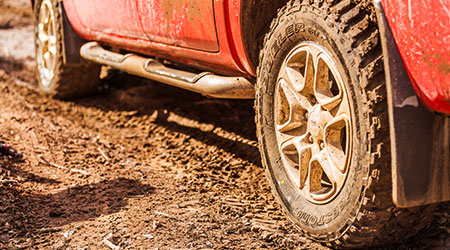 Tough enough to bring you back
Dueler's 4x4 mud and all terrain tyre range is tough enough for whatever off road adventure you take, the benefits range from impressive wear life to superior puncture resistance.
From the aggressive tread pattern of the M/T 673 with reinforced body plies to take on mud terrains, to the duel compound tread of the A/T 697 with larger tread blocks to last your all terrain adventuring, Dueler has you covered.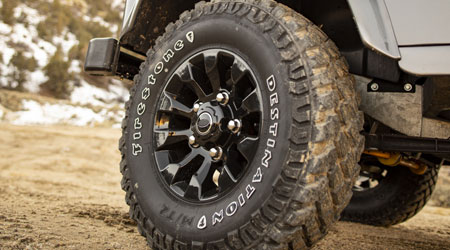 Always dependable
You can depend on Firestone to get you there with both all and mud terrain tyres that have been time proven. The all terrain tyre Transforce AT2 will be there for you both on and off the road with deep tread features allowing for improved performance in wet weather, and an aggressive all terrain tread pattern allow for high performance off road traction. For those who know they'll be predominately navigating mud terrain, the Destination M/T2 has been designed to support your journey, with its mud and stone ejection technology ensuring the highest level of traction off road.
Great value performance
A quiet achiever, Supercat is engineered to be reliable, regardless of whether you're taking your 4WD on or off road. With this in mind, the Supercat A/T has been designed with an aggressive all terrain tread pattern for Australasian conditions. You can know you're getting good value, whether in picking up the kids from school or on your next weekend 4WD adventure.
FAQs
What are all terrain tyres?
Just as the name suggests, all terrain tyres take you everywhere, off road to urban. Built to be more durable with a longer wear life these tyres can take you from the harshest landscapes to the smoothest roads with their open tread pattern and thicker sidewalls. You'll be able to handle all the weather throws at you in your 4WD knowing these tyres are designed to be tough and versatile. They are designed for good performance on almost every road surface, and are the popular choice for 4WD owners looking to tackle on and off road driving.
What are mud terrain tyres?
Mud terrain tyres are an off roaders best friend. Designed specifically for those with an adventure in mind, these tyres have a thicker tread to focus on enhancing traction and mud expelling sipes, so you don't get stuck. Given they are built with the specific purpose of getting you through mud terrains, they can be noisier, less fuel efficient and and are often larger in diameter, meaning you may need to lift your vehicle. Mud terrain tyres could be the better choice if you are looking to maximize your off road performance, with superior off road traction and cut resistance. Make sure you keep in mind the different laws around 4WD modifications depending on what state you're in.
Do I need an all terrain or mud terrain tyres?
If you're looking for a jack of all trades that can be your standard on road vehicle during the week, and then an off roader for a day trip on the weekend, then all terrain tyres may be for you. However, if you'll be purely looking at off roading, or live in a remote location which may require constant navigating of dirt or muddy roads, then you may want to consider mud terrain tyres instead. One key difference is that for general driving, the all terrain is a quieter, more fuel efficient option compared to the mud terrain tyres, however the reinforced side walls & tread depth are often appealing on the mud terrain over the all terrain range for some 4WD enthusiast.
If you're still unsure, head into your closest Bridgestone Select or Bridgestone Service Centre and our team of tyre technicians will be able to give you advice based on you and your vehicles needs.