Tyre Tread Depth Check
Did you know that when your tyre tread depth reaches 3mm or less your wet grip is dramatically reduced? Poor control in wet weather is just one of the dangers of worn tyres, which can include unresponsive handling and increased loss of air pressure.
How to measure tyre tread depth
Stay safer on the road by testing your tread depth with a 20c coin
Checking the tread depth of your tyres is simple and easy – and all you need is a 20c coin.
To measure your tyre's tread depth, place an Australian 20c coin into one of the central circumferential grooves of your tyre. If the tread doesn't reach the bill of the platypus, your tyre has less than 3mm of tread remaining. It's time to invest in some new tyres to make sure you stay safe while driving.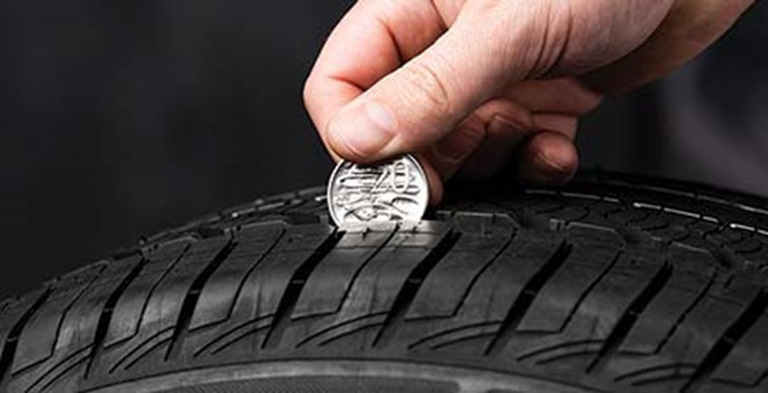 When should a tyre be replaced?
As your tyres' tread wears, their ability to disperse water reduces. This means when conditions are wet, older tyres can increase the time it takes for your car to come to a stop. Legally you are required to replace your tyres when your tread depth wears below 1.6mm, however we recommend maintaining a tread depth of at least 3mm to avoid a reduction in tyre capability, especially in the wet.

Visit your local Bridgestone store for a free tyre check
We offer free tyre checks year round, as part of our commitment to your driving experience. Our tyre checks will help you and your family stay safe on the road.
When it's time for you to find new tyres, our friendly team can help you choose the perfect option for your car, so you can enjoy a secure and comfortable ride. You're always in safe hands with us.