Learn about tyre sizes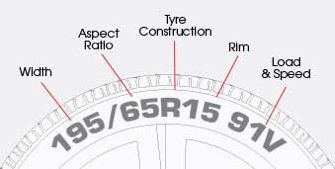 Width
195 indicates the section width of a tyre in millimetres.
Aspect Ratio
65 is a tyre's aspect ratio which is its height from the base of the tread to the rim. This number represents a percentage of the tyre's tread width.
Tyre Construction
R means that the tyre has radial ply construction, meaning the way in which it has been constructed.
Rim
15 indicates the diameter of the wheel rim.
Load & Speed
91 V is a reference that indicates the maximum load capacity and speed at which a tyre can be safely operated, subject to the tyre being in sound condition, correctly fitted and with the recommended inflation pressure. See load index table here.
OD
Overall Diameter of the unloaded tyre in mm.
Type Definition
RFT Run Flat Technology
RRFT Repairable Run Flat Technology
MOE Mercedes Original Equipment Extended
RBT Raised Black Letters Tubeless
OWT Outline White Letters Tubeless
RWT Raised White Letters Tubeless
TL Tubeless
TT Tube Type
XL Extra Load
Size

Width

Ratio

Rim

Load

Speed

OD

Type