How to book an auto service using my discount.
An auto service may only be booked at a Bridgestone Company store or Lube Mobile Mechanic.
Book to use my "Family & Friends" discount program.
Find your nearest Bridgestone Select Tyre & Auto store to use my "Family & Friends" discount program.
Not all stores show a price for tyres:
You must select a store that shows tyre prices for the Employee Purchase Program (EPP) to work. If you select a store and cannot see a tyre price, then please select another store.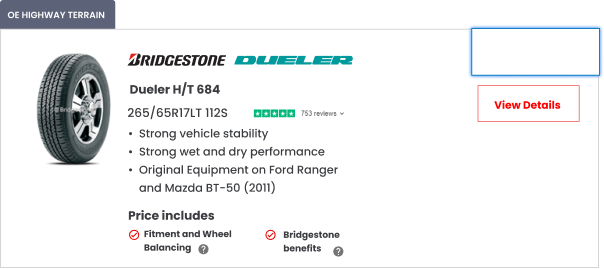 "Low Stock" items cannot be booked:
Where a "Low Stock" item is seen - you will not be able to proceed. Stock must be available in the Warehouse of the store selected to be able to transact. If you see a tyre with "Low Stock", do not select it - please select another tyre.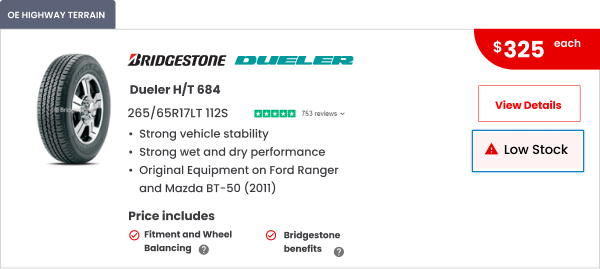 Follow the process to redeem your discount Codes.
To redeem your 100% tyre discount code, find selected company owned store,
Note: 100% Tyre discount not to be used at Franchise / License stores
Confirm your tyre size
Ensure you have visually confirmed your tyre size and load / speed rating, both front and rear. This can be found on the side wall of your tyre. e.g. 205/55R16 91W.

Select store for fitment
If the selected store is not displaying any prices, they are not participating in online sales and another store must be selected.

IMPORTANT: 100% tyre code: ensure you have selected a Company owned store.

Search for tyres
Search by "rego, Size or by Vehicle" using the Tyre search function, ensuring correct tyre sizing has been selected.

IMPORTANT: If an incorrect tyre size is selected and needs to be changed, a new code will need to be provided as the store cannot make any changes to the transaction.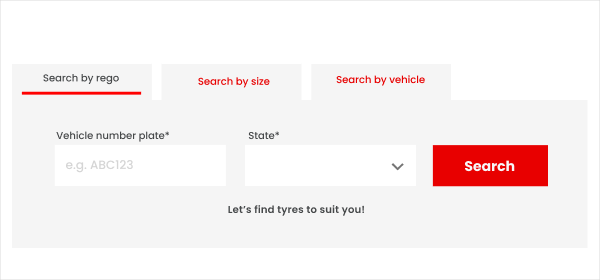 Select a tyre and click view details to proceed.
If you are unsure of what tyres best suits your driving style, please phone a store to speak with a tyre expert prior to placing your order online..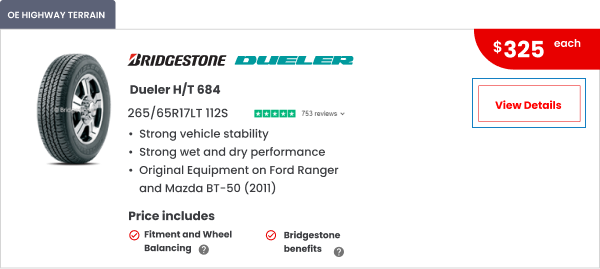 Select payment option to start the checkout process.
IMPORTANT: Select pay in-store at check-out. At store, confirm your current employee.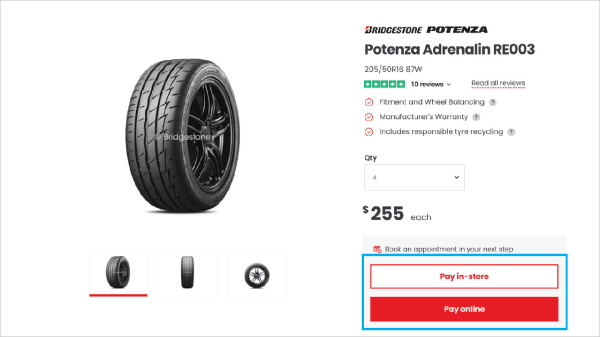 When viewing cart, add discount code and click apply.
Discount will apply to tyres in cart.

IMPORTANT: 100% discount code: up to 4 tyres maybe be selected. Additional tyres require a separate transaction.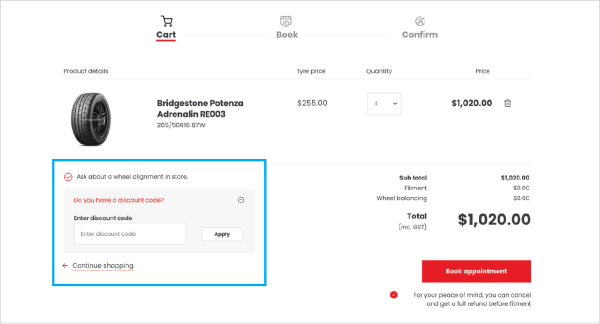 Book preferred date and time for fitment
The store will call you to confirm the booking details.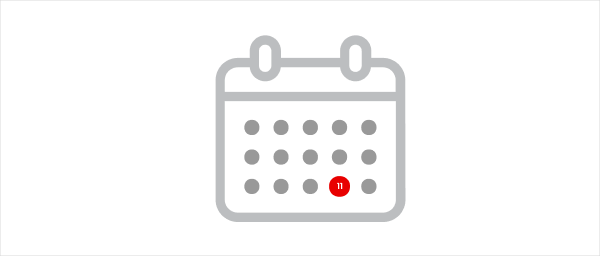 Wheel alignments
Bridgestone recommend that all new tyre fitments are done with a wheel alignment. This can be booked and paid for instore at time of vehicle drop off.

IMPORTANT: 100% code must include a wheel alignment. Book and pay direct store.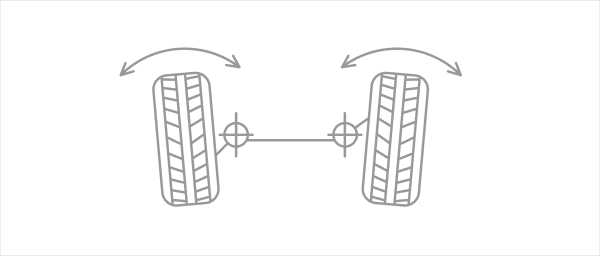 Booking tyres with Lube Mobile.
The same terms and conditions for all vouchers apply for Lube Mobile. To book your tyres for 100% discount Call 1300 468 701. At the time of booking advise your Bridgestone employee number and car registration. Confirm your mandatory wheel alignment. Wheel alignment must be paid to the mechanic.

Terms & Conditions.
Bridgestone Australia Employee Discount Program.
The Tyre Discount Codes are available on all Bridgestone, Firestone, Supercat & Dayton branded passenger car, SUV,4WD or light van tyres supplied by Bridgestone Australia, available only through www.bridgestone.com.au via stores that participate in online pricing.
Note that the 100% discount must only be redeemed online at Bridgestone company operated stores or Lube Mobile. See below for more details.
General Program terms & conditions

The Bridgestone Australia Staff "Family & Friends" Discount Program (Program) is subject to these terms and conditions.




Bridgestone Australia Ltd (Bridgestone) reserves the right to change, withdraw or amend the Program at any time.




The Program will be reviewed every 12 months.




The tyre discount code(s) cannot be combined with any other offer including, but not limited to motoring club discounts, VIP card programs and all other retail promotions.




The tyre discount code(s) can only be used once per transaction and are single use only. Not redeemable for cash under any circumstances.




The tyre discount code(s) must have been issued to a current Bridgestone or Lube Mobile employee and the employee must meet the eligibility criteria of the discount being used.




Employees serving their notice period after resignation or termination of employment are not eligible for the Program.




The 100% tyre discount codes are applicable for tyres purchases only. No additional 100% discount codes will be provided "on request".




The tyre discount codes are only applicable to Bridgestone, Firestone, Supercat & Dayton branded passenger car, SUV or 4WD and light van tyres, and subject to availability.




If an incorrect product is selected, the transaction will need to be cancelled by the relevant store and a new voucher code will need to be sourced by the participant and a new transaction completed using a new tyre discount voucher code.



We may refuse or reverse your order:
• where the tyre is not available;
• where we cannot obtain authorisation for your payment;
• if there has been a pricing or product description error.



All our tyres are subject to availability. If, for any reason, any, or all of the tyres you have ordered are, or become, unavailable, or there has been an error in the price on our website, we will make reasonable efforts to notify you of this as soon as possible. We will also endeavour to advise you of the revised delivery dates. In such cases, if you have already paid for the tyre, we will either notify you when the tyres will be available for fitment or refund you the amount paid as soon as reasonably possible.




For tyres purchased under the Program, the tyres removed from the vehicle must be surrendered to the store for responsible tyre disposal; the used tyres are not able to be retained by you/your friend/your family member.




For the avoidance of doubt, the 'Terms of Sale' available on the Website apply to any transaction under the Program.




Bridgestone's decision on all matters relating to the Program is final, and no correspondence will be entered into.



Bridgestone's privacy policy is available at www.bridgestone.com.au

1 x code for employee use only / 5 years

To use the 100% tyre discount code, please note it is applicable for a maximum of 4 tyres only and it is a mandatory condition of use to purchase a wheel alignment at additional cost. The wheel alignment must be purchased separately at your selected store. The cost of the wheel alignment will be at the stores current retail price.



Please select "pay in store" at checkout



100% tyre discount code for individual Employee use only and will be available after a minimum of 2 years employment. The discount code will be available on request when needed by via your BPaid tile.




A 100% tyre discount code can be issued once every 5 years from previous request.




For the 100% tyre discount code, a valid BSANZ Employee number must be provided at booking/transaction point and belong to a current BSANZ employee.




Chosen tyres can only be fitted to one vehicle (i.e not split across two vehicles) and cannot be taken "loose" – i.e. must be fitted at Bridgestone company operated stores or Lube Mobile.




100% tyre discount codes must be redeemed within 3 months of issue.



100% tyre discount codes must be redeemed at Bridgestone company operated stores or Lube Mobile. For a list of stores, please see here:

*Note: Your 100% discount code can not be used in same year you use your 2 x 50% discount codes.
The following stores offer employee discount
Sorry, we can't seem to find any store in that area.
Try broadening your location radius above or give us a call on 131 229 if you need urgent assistance.