Up to $100 cashback on
Bridgestone Dueler tyres
Designed to dominate the harshest off-road conditions, Dueler is a 4x4 driver's ultimate ally when things get tough. So get going today with this deal at your local Bridgestone store!
Here are some features of Dueler tyres:
Durable construction

Cut chip resistance

Raised black sidewall lettering
Offers valid between 1/06/2022 and 30/06/2022.
Read full terms and conditions here.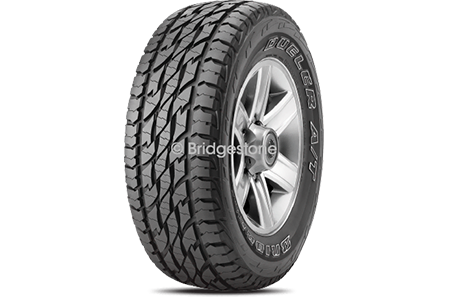 Dueler popular models:
Toyota Land Cruiser
Toyota Hilux
Ford Ranger
How to check your tyre size

Indicates the section width of a tyre in millimetres.

The sidewall height measured from the base of the tread to the rim. This number represents a percentage of the tread width. Low profile tyres have smaller aspect ratio percentages.

Indicates the diameter of the wheel rim. So if you are buying wheels for existing tyres, this is the size in inches you will require.

Load indicates the maximum load capacity at which a tyre can be safely operated, subject to the tyre being in sound condition, correctly fitted and with the recommended inflation pressure. See table below for load index and the maximum load per tyre.

| | | | | | | | | | | | | | | | | | |
| --- | --- | --- | --- | --- | --- | --- | --- | --- | --- | --- | --- | --- | --- | --- | --- | --- | --- |
| Load index | 83 | 84 | 85 | 86 | 87 | 88 | 89 | 90 | 91 | 92 | 93 | 94 | 95 | 96 | 97 | 98 | 99 |
| Max load/tyre (kg) | 487 | 500 | 515 | 530 | 545 | 560 | 580 | 600 | 615 | 630 | 650 | 670 | 690 | 710 | 730 | 750 | 775 |

Speed symbol is a code which indicates the speed at which a tyre can be safely operated, subject to the tyre being in sound condition, correctly fitted and with the recommended inflation pressure. See table below for passenger tyre speed symbol ratings.

| | | | | | | | | | | | | | | | | | | | |
| --- | --- | --- | --- | --- | --- | --- | --- | --- | --- | --- | --- | --- | --- | --- | --- | --- | --- | --- | --- |
| Symbol | E | F | G | J | K | L | M | N | P | Q | R | S | T | U | H | V | W | Y | Z |
| Rating | 70 | 80 | 90 | 100 | 110 | 120 | 130 | 140 | 150 | 160 | 170 | 180 | 190 | 200 | 210 | 240 | 270 | 300 | 240+ |
$50 back on 4 tyres (16" and below)

$100 back on 4 tyres (17" and above)
Didn't find your tyre size?
Search by Rego now
4th tyre
FREE

on Bridgestone Potenza
Adrenalin RE003 tyres

4th tyre
FREE

on Bridgestone Turanza
Serenity Plus tyres

$100 cash
back

on Bridgestone
Alenza tyres

4th tyre
FREE

on selected Firestone
Destination tyres

Up to $80
cash back

on selceted
Supercat car tyres

Lets find tyres to suit you