At Bridgestone, we mobilise technology to meet environmental regulations set for the industry, as we play our part in steering towards carbon neutrality.
Transition to Renewable Energy
Tapping on solar power as an inexhaustible energy source, as we move towards a carbon-neutral future by 2050.
Towards Bridgestone's targets of reducing CO2 emissions, we have adopted a multi-pronged approach. This includes other energy alternatives such as biomass and a substantive commitment to the use of solar energy to reduce our carbon footprint.

Leveraging the large surface area of rooftops of our manufacturing plants, we've installed solar panels to tap on solar power as a clean, alternative energy source for our tyre production needs. This reduces fossil fuel dependence in the process.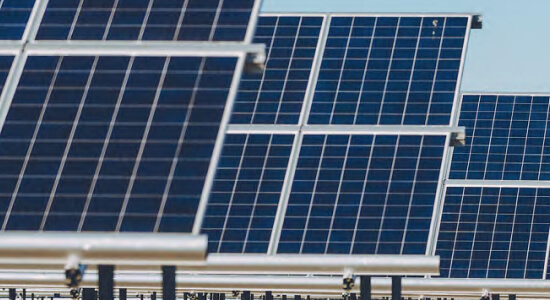 Bridgestone is anchored in extensive global solar projects, which includes plants in the U.S., Spain, South Africa. In Asia, too, solar facilities in Japan, India, China, Thailand, Vietnam, Taiwan and Indonesia underscore our serious commitment to generate energy from the inexhaustible power of solar.

Concurrently, we are encouraging our other non-manufacturing sites, warehouses and retread shops to seriously consider the viability of installing solar rooftops, even as we collaborate with like-minded partners to co-create new solutions to reduce fuel dependency.

These collective efforts are in line with our target to reduce 50% CO2 emissions from 2011 levels by 2030. In 2021 alone, we have achieved a CO2 emissions reduction of 25%. This bodes well for our longer term goal of achieving carbon neutrality by 2050.
Enliten Technology
Developing more sustainable tyres that lower fuel consumption and reduce carbon emissions.
With stricter regulations imposed on OEMs to reduce carbon emissions as well as the acceleration of Electric Vehicles (EVs), our innovative ENLITEN Technology addresses many of the challenges faced.

ENLITEN Technology utilises proprietary lightweight material in its tyre composition to achieve Low Rolling Resistance (LRR) for its tyres.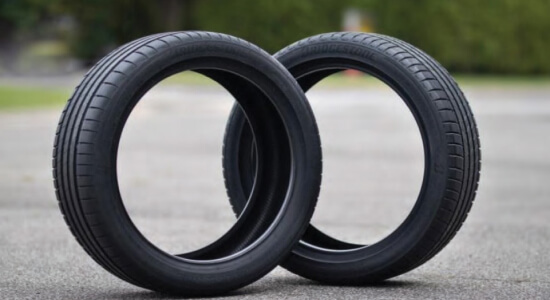 The result of this unique and revolutionary tyre production process – which uses less raw materials – is a reduction in fuel consumption for combustion vehicles, improved wear rate and more durable tyres. These invariably lower carbon footprint.

Our various co-creation ventures with car manufacturers have helped achieve lower energy consumption in their vehicles. For example, ENLITEN Technology on our customised Turanza Eco tyres for Lightyear One – the world's first long- range solar electric vehicle. Likewise, ENLITEN Technology's first foray into China was for the new-generation Nissan X-Trail, while our tyres on electric vehicle NIO ET7 with breakthrough LRR achieved longer battery life and cruising distance – with an astonishing 1,000km on a single charge.

Ultimately, our technology is purposed not just to bring convenience and savings, but also reflects our progressive social stance, and our desire to be more responsible – with cleaner energy vehicles – on the sustainability front.
Retread/Bandag
Deploying retreading technology to reduce carbon emissions and lower energy cost by 30% compared to new tyre production.
Bandag, a subsidiary of Bridgestone, is a market leader in retreading used tyres. This gives us a distinct advantage to lead the way in sustainable solutions.

Essentially, retreading is a re-manufacturing process that replaces the thread on worn tyres. Through retreading, existing tyres are given new life without any compromise on quality.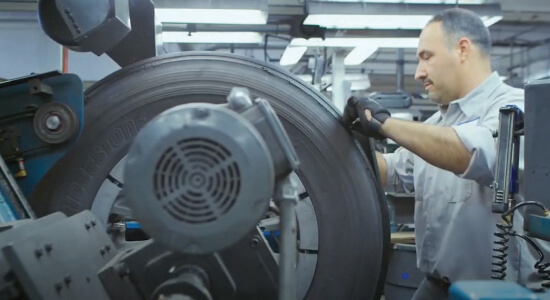 Compared to the manufacturing of new tyres, Bandag's retreading process uses approximately only 30% of energy costs compared to new tyre production. Our unique cold curing retreading process allows for more retreads.

Also, because there is a significant reduction in the use of raw materials in the retreading process, there is a reduced strain and demand for products such as rubber and oil, extracting less from limited energy resources.

Since 1957, Bandag has saved an estimated 300 million tyres from entering the waste stream by retreading, saving an estimated 4 billion gallons of oil – enough to fill over 6,000 Olympic-sized pools. This is a substantive step towards reducing carbon footprint.
Tirematics
Tyre sensing technology for predictive maintenance, improving fuel consumption and reducing carbon emissions.
With global warming a hot button issue today, ensuring optimisation of fuel consumption to reduce carbon emissions has become a pressing issue for the mobility industry.

When tyres are checked to be in optimal condition, fuel consumption is optimised. Tirematics, our tyre sensor technology offers a digital solution that is able to track the parameters of temperature and pressure through the use of external digital sensors, gateways and cloud.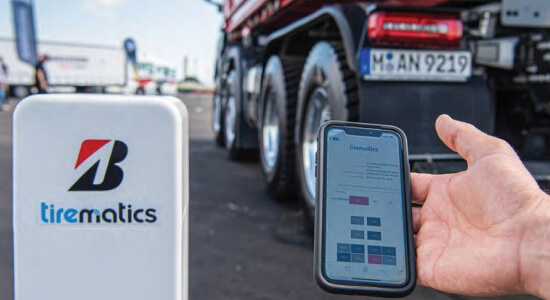 Such predictive maintenance not only saves manual tyre inspection and related costs for fleet operators, it also ensures that any tyre anomaly is quickly detected and rectified. Systematic monitoring inevitably prolongs tyre life, and together with the option of retreading, delays the need for tyre replacement. Carbon footprint is reduced in the process.

Regular monitoring also ensures data on tyres is seamlessly available to fleet operators, thereby delaying its replacement and reducing energy costs related to new tyre production.

Ultimately, Tirematics enables a safer and smarter transportation fleet with critical tyre data on the go.

Bridgestone World Solar Challenge
Championing an energy-efficient and decarbonised future through solar-powered cars to reduce fossil fuel dependence.
The Bridgestone World Solar Challenge (BWSC) is the world's premier solar car event where young engineers use only the power of the sun to design, engineer and build the most innovative, energy-efficient and durable solar-powered vehicles. It is held in the Australian outback and spans a punishing 3,000km route.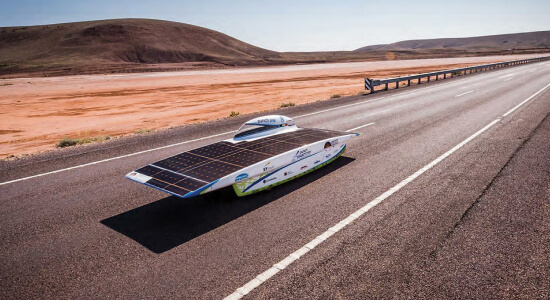 Bridgestone's involvement in the BWSC underlines its commitment to harness solar energy to develop cleaner, future mobility solutions – and amplifies the broader message of the need to adopt alternative and renewable energy sources. It is also geared towards the achievement of low to zero emission vehicles and decarbonisation in the mobility industry.

As an outcome of the BWSC, our engineering partnership with BWSC participants Team Eindhoven and Netherlands-based Lightyear resulted in the first commercially-available, long-range solar electric car – the Lightyear One.

WIth the exponential growth of BEV, PHEV and hybrid car models lending impetus to alternatives to fossil fuels, the mobility scene is ripe for further commitment to cleaner power sources – and Bridgestone – together with our partners – is well-poised with new solutions to fuel dependency, to seize the energy-efficient route to further innovation.