Proud Worldwide Olympic and Paralympic Partner
We are proud to be an official Worldwide Olympic and Paralympic Partner. As part of this partnership, we empower and assist current and aspiring athletes around the world to chase their dreams. In Australia, we aim to transform, ignite and inspire the dreams of future athletes with the "Chase Your Dream" message through a number of community driven activities across a number of sports, in line with our corporate social responsibility initiative, Our Way to Serve. Our Olympic and Paralympic partnership will extend until 2024 and is just one of the ways we're furthering our commitment to community service, environmental stewardship, and social responsibility.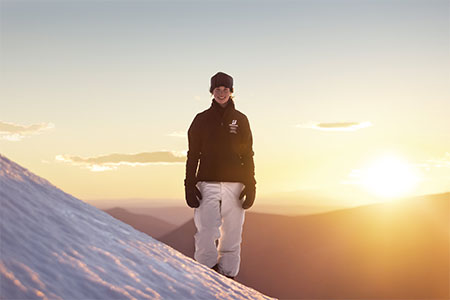 Olympic Winter Games in 2022
In the lead up to the Olympic Winter Games in 2022, we are sharing the 'Chase Your Dream' message through the lens of 'resilience', partnering with Australian Olympic Snowboarder, Tess Coady.
Olympic and Paralympic Games Tokyo 2020
Ahead of the Olympic and Paralympic Games Tokyo 2020, we partnered with former, current, and future Olympians and Paralympians to encourage and inspire Australians to chase their dreams, including,
Ariarne Titmus – Swimming,
400m Freestyle World Champion.
Connor O'Leary - Surfing,
2017 World Surfing League Rookie of the Year.
Joe Ingles - Basketball,
four-time Boomer team member.
Heath Davidson – Wheelchair Tennis,
Rio 2016 gold medallist.
Cathy Freeman - Athletics,
Sydney 2000 gold medallist.
2018 Olympic Winter Games
In 2018, Bridgestone Australia teamed up with Australian snowboarder Belle Brockhoff to share the story of her journey to the XXIII Olympic Winter Games in PyeongChang and her return from injury. In the video, Belle shares her perspective on what it means to chase the Olympic dream.
The Olympic Channel
As part of our Olympic and Paralympic partnership, we are also a founding partner of the Olympic Channel, a ground-breaking global digital platform where fans can enjoy inspiring Olympic content all year round. We are working closely with the Olympic Channel team to help fans access the channel's content anytime, anywhere, and on any device. We feature as presenting partner of the channel's series Against All Odds, an eight episode documentary following eight Olympians. The series follows athletes who have overcome obstacles and adversity to finally achieve their Olympic dream.